Nedenstående er en lille artikel jeg forfattede til brug på
http://www.bladeforums.com
og
http://www.usualsuspect.net
, så tilgiv sproget!
Den pågældende hawk er i mellemtiden blevet solgt og jeg venter pt. på at få en fra Ranger Knives med en lidt anden slibning (hook grind).
Tomahawk Testing
Last week, I got this here Ranger Knives "Renegade" tomahawk from my good friend Nicolai Brix and I've been aching for testing it ever since.
Of course we've been having the second flood here and it's been terribly muddy everywhere. So.....the weather finally cleared on tuesday so I could get out in the woods, have some fun and shoot some pics!
Let me state right away, that throwing this thing is easy! It's getting it to stick in the target that's the hard part with getting the head to hit first coming in as a close second!
Of course, with enough practice and diligence, it can of course be learned! As a consequence, I settled for chopping stuff with it!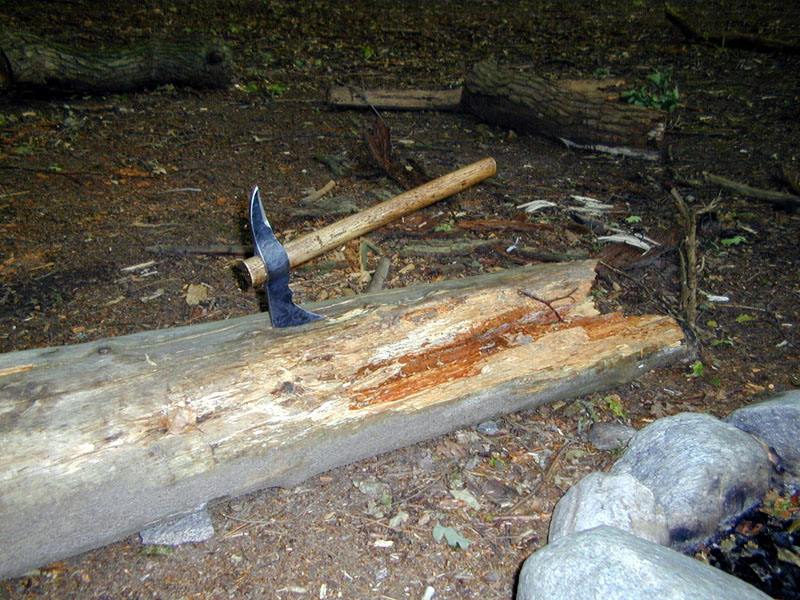 Take that! In the midst of the dark, dark woods! And the log could just have behaved! There!
My primary use for the hawk is a replacement for a large camp knife and of course as a fun toy and maybe, ultimately, as a weapon.
I deccided I'd try it out as the first two things and found both some fresh and dead wood to test on. It soon became clear to me, that this thing is meant to work and it means business!
With some practice, fresh branches up to 1" in diameter just flies off when hit(!) and it took me less than a minute to chop down a 3-4" tree that happened to be in my way!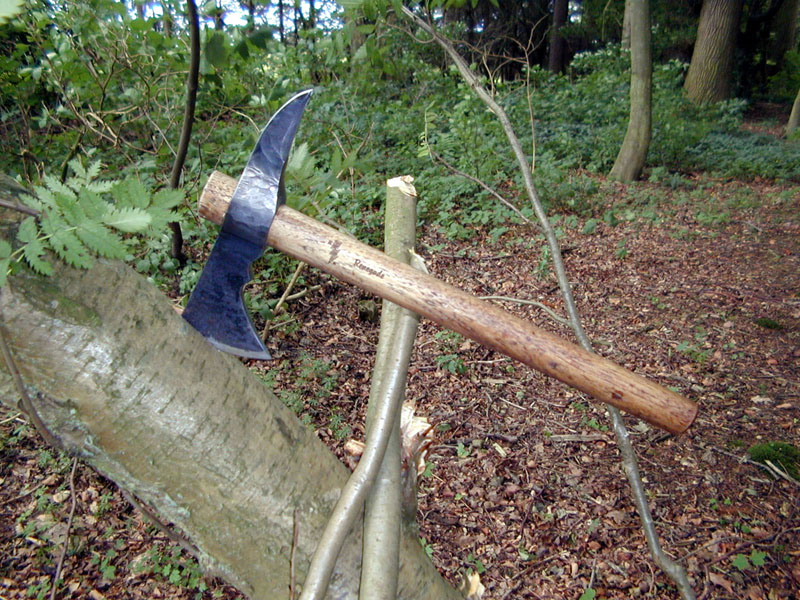 Branches first, then the tree! It had to come down and it did! Truly effective chopper!
I proceed to try it out on some very hard, very dry beechwood I had found. Of course the progress slowed down, but it was still extremely effective.
I guess it's my lack of trainging with both a hawk in particular and axes in general, but the handle seemed to "roll" a bit for me and I managed to whack the wood with the side of the head quite a few times.
It got easier the more I practiced, so I guess I might learn it some day.
I really enjoyed using the hawk for chopping wood for a small shelter instead of using a knife. I felt my hand was much more out of harms way while chopping and there's no question where the "sweet spot" on the blade is! Either you hit the wood - or you don't!:o)
I can still see uses for a large camp knife and I'll keep on carrying one on longer outings. But the hawk is a fabulous tool too and I'm pretty sure it will be a permanent part of my gear from now on.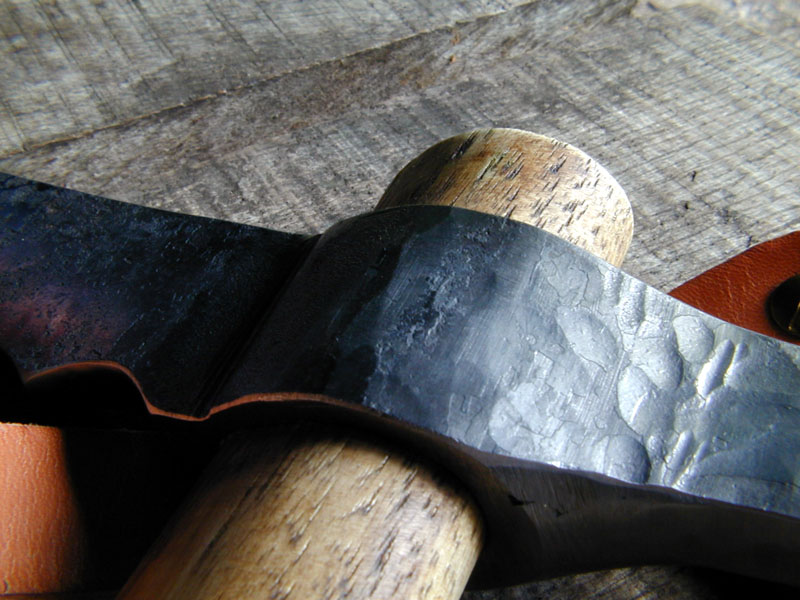 Detail shot of Justin's work! I love the rustic look of this hawk and it feels rock solid no matter what you do with it!
As for the quality and build of the Renegade, I can only say I really, really like it! It's my first hawk ever and I haven't got much to compare it with apart from having seen it's "brother" some time ago and an ATC VT een longer ago.
I prefer the wood handle and rustic look to black coating and acetal handle, but that's just my personal taste and I have no means of judging what's best.
This is not really a review of the Renegade, since I'm a complete novice when it comes to hawks and I have no idea how they are supposed to perform.
I am extremely satisfied with the look, builld and performance of this one and knowing Justin has a lifetime warranty makes me a bit more prone to actually using it!
The Renegade was almost shaving when I got it, so I didn't sharpen it before going off to the woods. I had struck the ground with the edge a couple of times and it had fallen edge first when I tried to throw it too (both this time and when I had just gotten it)
A few minutes with a medium Lansky stone brought it back to "damn sharp" and I can only say that 1095 is a joy to sharpen compared to some of the modern stainless wondersteels of today!
Great work Justin! Can't wait to see what the new ones look like!
Thanks for reading
Bo Hansen[/code]